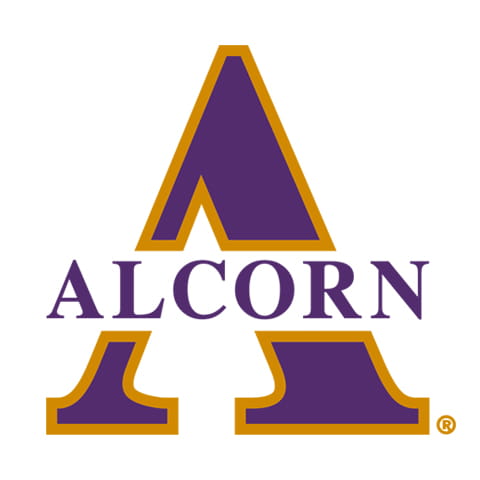 Alcorn State
Founded in Lorman, Mississippi in 1871, Alcorn State University was the first Black land grant college established in the United States, laying the groundwork for other great HBCUs to follow in its footsteps. Some of its most famous alumni include NFL football players, civil rights activists, and professional female bodybuilders like Steve McNair, Medgar Evers, Charles Evers, Myrlie Evers-Williams, and Iris Kyle.
Medgar Evers, one of the alumni mentioned above, graduated from Alcorn State in 1952. Students at the college worked to register students to vote to end racial inequality in the mid-twentieth century. Today, Alcorn University strives to develop its students into globally competitive leaders, but it also applies its scientific research to benefit its community, state, nation, and world. The school's motto says that it's an institution ""Where Knowledge and Character Matter," and now you can take part in Alcorn State's rich history by showing your Braves pride in vibrant purple and gold Alcorn State apparel.
We are pleased to bring you a diverse selection of both men's and women's Alcorn State apparel to meet any stylistic needs you have. Bring the authentic signature Alcorn State purple and gold to life when you wear one of our Primetime crews or OUTKAST fleece shorts. Thanks to our licensing agreements with the top HBCUs, like Alcorn State, you can now showcase your Braves spirit proudly and comfortably no matter what season it is. None of our school colors or logos look like anything other than the original--we only sell the real deal, and every sale we make benefits the schools you choose to represent.
Generations of successful Alcorn State alumni have gone on to distinguish themselves in the most competitive career fields, including medicine, business, and professional athletics. The school has also received national recognition for its excellent liberal arts, agricultural community, technology, music, and nursing programs. Alcorn State is on a mission to make the world a better and more diverse place, which is why we're so excited to provide you with all the Alcorn State apparel you need. If you have any questions while shopping with us, please contact us for assistance. We are always happy to help our customers.
---