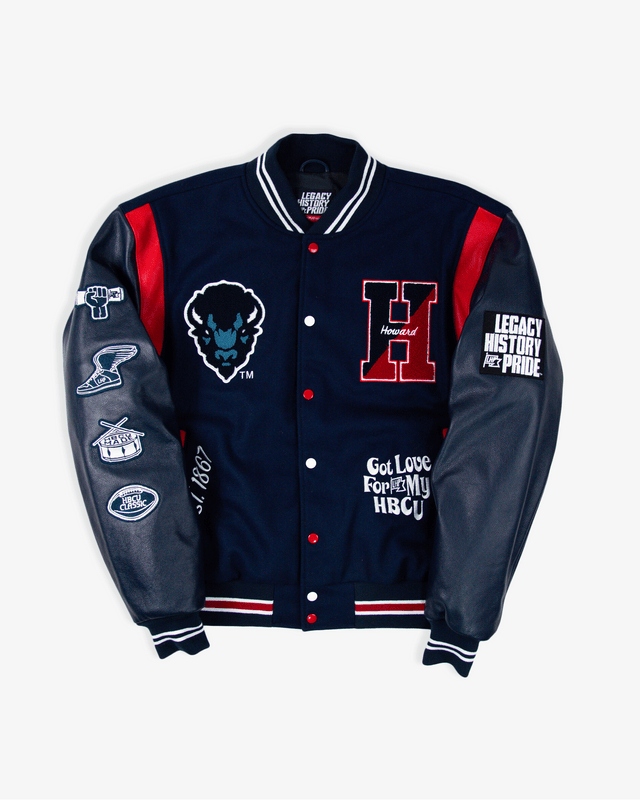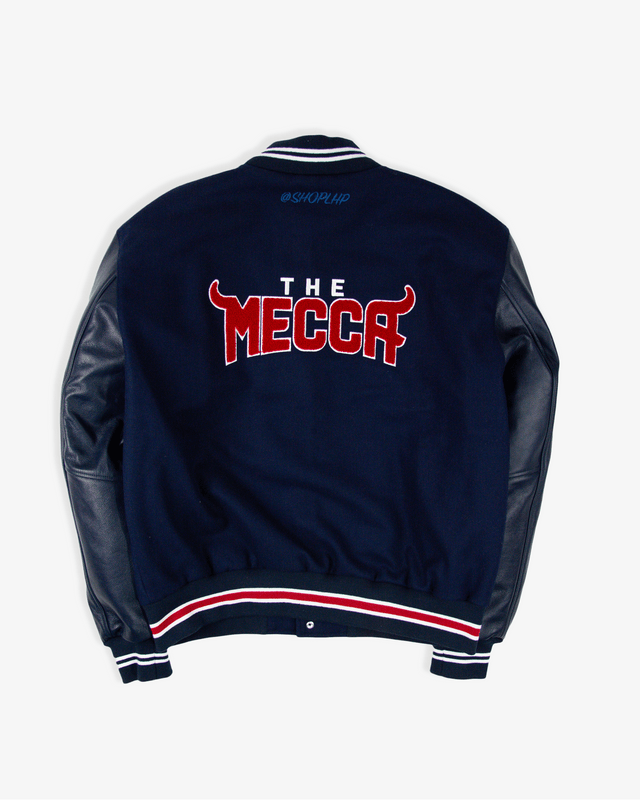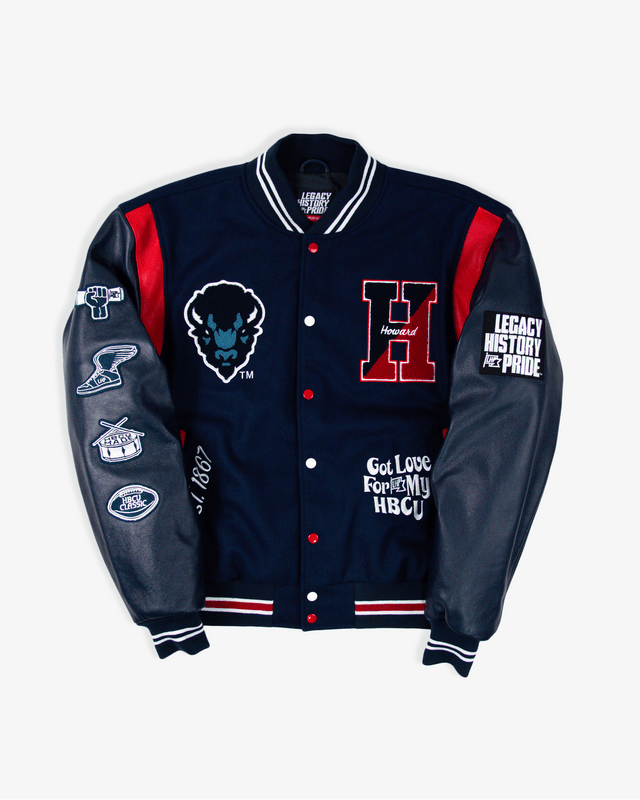 Howard University Motto 3.0 Varsity Jacket
Harkening back to a timeless symbol of school spirit and HBCU style, the 3.0 Varsity Jacket is a true representation of LegacyHistoryPride. This classic silhouette features details on the sleeves depicting the LHP Elements, while the jacket highlights the school mascot, year of establishment, and school motto, proudly displaying school pride with a sporty flair. Expertly constructed of wool and leather, it is finished with striped ribbed trim and LHP lining.
The LHP Elements: 
"The DRUM" – Represents the touchstones focused in music, arts, and culture.

 "The FOOTBALL" - Represents the bond that is nurtured at events like homecoming & Classics where generations of HBCU Students and Alumni return to a place where they are celebrated and uplifted.

 "LHP Sneaker w/ Wings" Represents community that has been built through fashion and self-expression through style. 

"LHP Grad Fist" – Represents the power, influence, and importance of Black higher education
Size Guide
| Size | Chest | Sleeve | Back | Bottom |
| --- | --- | --- | --- | --- |
| S | 24.5" | 27" | 26.75" | 17" |
| M | 25.5" | 27.25" | 27.25" | 18" |
| L | 26.5" | 27.5" | 27.75" | 19" |
| XL | 27.5" | 27.75" | 28.25" | 20" |
| 2XL | 28.5" | 28" | 28.75" | 21" |
| 3XL | 29.5" | 28.25" | 29.25" | 22" |
| 4XL | 30.5" | 28.5" | 29.75" | 23" |
| 5XL | 31.5" | 28.75" | 30.25" | 24" |
| 6XL | 32.5" | 29" | 30.75" | 25" |
Measurements are approximate. LHP jackets fit more snug.
All dimensions reflected are garment measurements, NOT body measurements.
Please allow +/- 1 inch allowance.  To accurately get sizes, use an existing shirt that fits you and measure the dimensions based on the sizing guide.  Lay the shirt on a flat surface to get accurate measurements.
Signature Delivery
On orders over $250
Orders are processed and shipped within 1-3 business days of purchase. You will receive a tracking number when your order ships and email/text notifications of your delivery until it hits your mailbox.
No Refunds-No Exchanges on Sales Items
Shipping Mon-Fri Only
$250+ Require Signature Delivery
Returns & Exchanges
In the event you were shipped the wrong item or size or a defective product, please go to the Return Center.

We are unable to offer price adjustments on items purchased before, after or during sale periods. Sale pricing is offered on a promotional basis. We are only able to honor this temporary pricing for purchases made during the period that pricing is live.
---
Run Dont Walk To Get This Jacket!
Seriously my favorite jacket! I got the original one my freshman year, im now a junior and the coat is stillll in perfect condition .. perfect for layering as well. I get compliments EVERY where i go. Its worth EVERY penny!
#HUForever!!!
Love my Howard University Legacy History Pride Varsity Jacket!!!
One of a kind
My son and I absolutely love his new varsity jacket by LegacyHistoryPride!
Upon opening the package, we immediately noticed the high quality and vibrant colors. We were also completely satisfied with how quick his package arrived.
Thank you!
The class & style of an HBCU coat
This coat is truly well made. The material and stitching are top quality and insulation that will keep you warm in the cold. Day evening or night you will definitely receive complements and turn heads for all the reasons. Love this coat and it was worth the wait.
BOBM ASS 2.0 JACKET
MY DAUGHTER LOVES HER JACKET! I GOT HER THE XS; SHE'S 4"11 AND SUPER TINY.SO THE XS WORKED PERFECT FOR LAYERING! THE MATERIAL AND QUALITY OF THE JACKET ARE TOP-NOTCH. THIS JACKET IS UNMATCHABLE! **SECOND REVIEW DUE TO THE STAR RATING ITS DEFINITELY A 5 STAR NOT 4, AS SELECTED IN MY FIRST REVIEW!