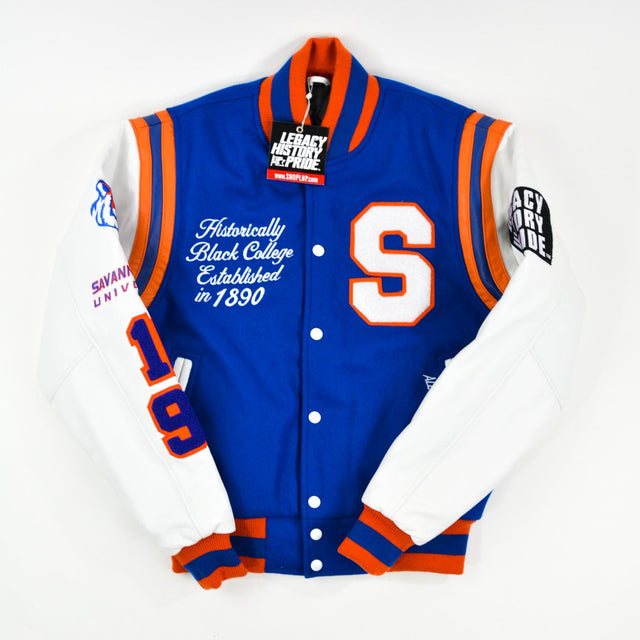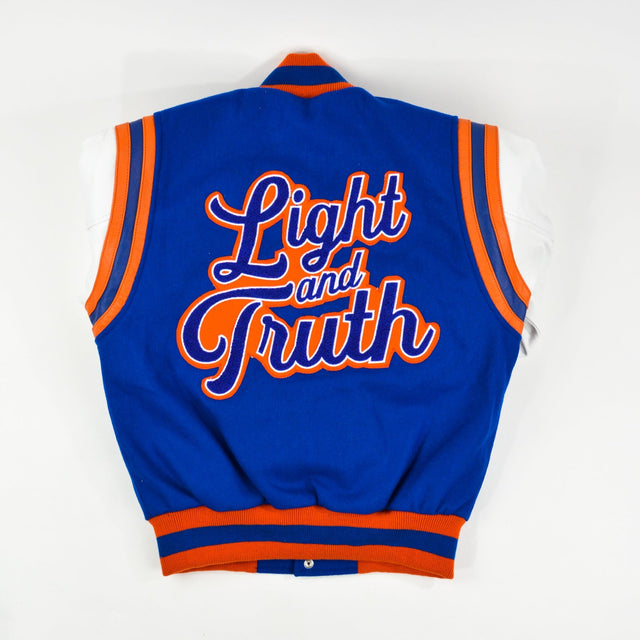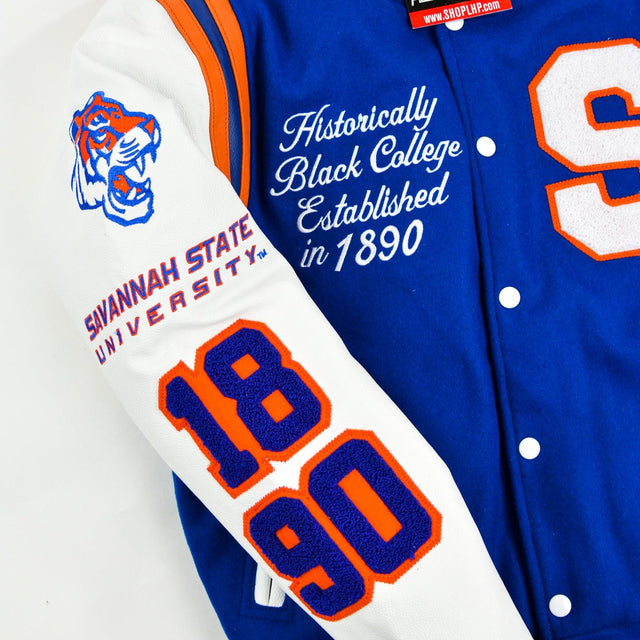 Savannah State University Motto 2.0 Varsity Jacket
A symbol of school spirit and authentic Savannah State University cool, the varsity jacket is an iconic LegacyHistoryPride silhouette. The details on the sleeves with the "Tigers" mascot and "1890" along with "Enter to Learn Depart to Serve" motto on the back screams school pride with a sporty style. It's crafted in wool with leather sleeves and pockets, and finished with signature striped ribbed trim.
Men - Order up a size if you don't like the fitted snug look.
Women - Women's Large will fit the LHP Medium
Size Guide
| Size | Chest | Sleeve | Back | Bottom |
| --- | --- | --- | --- | --- |
| S | 24.5" | 27" | 26.75" | 17" |
| M | 25.5" | 27.25" | 27.25" | 18" |
| L | 26.5" | 27.5" | 27.75" | 19" |
| XL | 27.5" | 27.75" | 28.25" | 20" |
| 2XL | 28.5" | 28" | 28.75" | 21" |
| 3XL | 29.5" | 28.25" | 29.25" | 22" |
| 4XL | 30.5" | 28.5" | 29.75" | 23" |
| 5XL | 31.5" | 28.75" | 30.25" | 24" |
| 6XL | 32.5" | 29" | 30.75" | 25" |
Measurements are approximate. LHP jackets fit more snug.
All dimensions reflected are garment measurements, NOT body measurements.
Please allow +/- 1 inch allowance.  To accurately get sizes, use an existing shirt that fits you and measure the dimensions based on the sizing guide.  Lay the shirt on a flat surface to get accurate measurements.
Signature Delivery
On orders over $250
Orders are processed and shipped within 1-3 business days of purchase. You will receive a tracking number when your order ships and email/text notifications of your delivery until it hits your mailbox.
No Refunds-No Exchanges on Sales Items
Shipping Mon-Fri Only
$250+ Require Signature Delivery
Returns & Exchanges
In the event you were shipped the wrong item or size or a defective product, please go to the Return Center.

We are unable to offer price adjustments on items purchased before, after or during sale periods. Sale pricing is offered on a promotional basis. We are only able to honor this temporary pricing for purchases made during the period that pricing is live.
Sale Items Ending .99 reflects a final sale. No refunds/No exchanges
---
You Can Get Anywhere From Here!!!
The jacket is beautiful. My only feedback is for the designers! Please collaborate with SSU students/alumni moving forward to deliver a product that reflects the true culture of our institution. We don't use "Light and Truth" we use our unofficial motto: "You Can Get Anywhere From Here" or our tagline: "Tell Them We Are Rising" — either of those messages would have been dope on the back of the jacket, and more students and alumni would purchase it.
Thank you for your review. Unfortunately, we have to abide by the licensing rules of your school. They approve every item we sell. Therefore, your official school motto is the only motto we can use. Thanks for the support.
Worth the money
Nice quality jackets got the queens finest and the grambling jacket. Definitely order a size up. Waiting on the savannah state to restock.
Nice Jacket!
Excellent looking jacket, however the school motto isn't what you have listed in the description, but it's "Lux Et Veritas" which you have correctly translated on the back of the jacket.
DOPE
You can tell LHP used the finest quality of materials out there. The letterman looked nice on screen, but once I got it... it's even better in person.
Im glad I got a 2xl because they are made to fit. Very satisfied with my order and will be doing business with LHP in the future. Preciate it bro bro.
SSU stand up class of 2016.