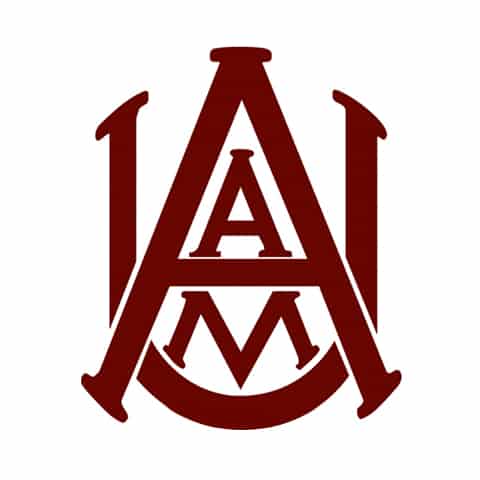 Alabama A&M
Alabama A&M University is dedicated to providing a student-centered educational environment to prepare future scholars, scientists, leaders, and critical thinkers to excel in their career fields. Located in a neighborhood of Huntsville, Alabama called Normal, Alabama A&M was founded in 1875 by a former slave named Dr. William Hooper Councill, who had a hope-filled vision for future African-American generations. This HBCU boasts over 60 undergraduate, graduate, and certificate programs as well as an internationally diverse faculty. Some famous names that have graduated from Alabama A&M University include Ruben Studdard, Sun Ra, Clyde Foster, Don Calloway, and Joseph Lowry.
Alabama A&M is committed to excellence, integrity, and accountability in everything it does. It maintains the highest standards of ethics in its professional practices while also proving itself to be a reliable and trustworthy institution that serves its community. Alabama A&M not only embraces and celebrates diversity among its staff and students, but it actively works to create an inclusive learning environment for all. It's a school its alumni can be proud of, and we're very excited to partner with Alabama A&M to bring you comfortable and stylish Bulldog gear. We know that HBCU alumni have a massive impact on our country by bringing immense levels of empathy and cultural diversity into powerful and influential career fields. This is why we work to meld the ideas of our culture's legacy, history, and pride in all of our products.
Our selection of Alabama A&M apparel includes athletic socks, face masks, crews, and shorts. Whether you're working out in the gym, attending a socially distanced event, or preparing for cooler or warmer seasons, we have all the affordable and stylish clothing options you need to rep your Bulldogs proudly.
Every purchase made from our collection of Alabama A&M apparel sends a portion of the proceeds back to Alabama A&M University. Thanks to our licensing agreements, you can show your Bulldogs pride with our officially licensed gear, featuring looks and styles that can only be found from LHP! If you have any questions about our Alabama A&M apparel, please contact us for more information.
---