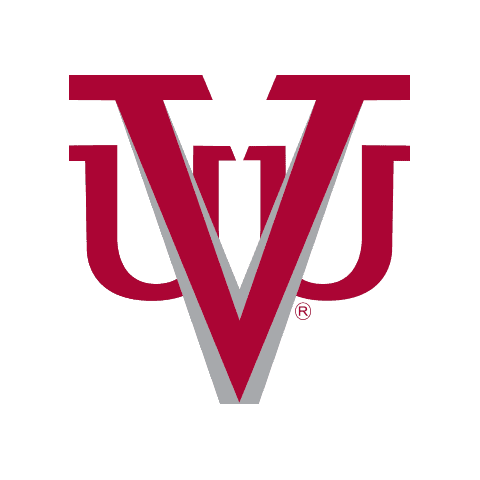 Virginia Union University
Virginia Union University provides its students with a future without limits, focusing on creating an academically stimulating and spiritually enriching environment. With notable alumni like Charles S. Johnson, Spottswood William Robinson III, Douglas Wilder, and Ben Wallace, it's not hard to see why all of VUU's graduates call themselves proud Panthers. We have all the Virginia Union University apparel any alumnus/alumna or current student could need, including comfy crews and fluffy fleece shorts.
You have a couple of options if you'd like a VUUcrew sweatshirt. First, there's the Virginia Union "PRIMETIME" crew, with a solid cream-colored background that looks great with a pair of our "Crispy Cream" Shorts. Along with the year that VUU was founded, 1865, stamped in random but visually appealing places on the sweatshirt, this crew also features a large, official VUU logo on the front. Meanwhile, our "PrimeTime" Crew almost reverses the color scheme of the first and is designed with a solid maroon background and features solid white lettering for the logo instead. These crews are great for layering, especially when temperatures start to drop, but they're comfortable enough to be worn year-round.
Virginia Union University embraces the unique contributions of the African Diaspora, celebrating the value of cultural and intellectual diversity. The school provides comprehensive undergraduate liberal arts programs as well as graduate programs for Christian ministries. One of the guiding principles of the university's educational program is a strong focus on moral values and ethics. Students are encouraged to engage in activities that promote self-actualization. We're excited to support this mission by offering officially licensed Virginia Union University apparel in the maroon and steel colors that VUU is known for.
We think the quality of our clothes and the speedy processing & shipping times will keep you coming back for more. After all, here at Legacy History Pride, we are dedicated to providing excellent customer service with every transaction. If you have any questions while shopping with us, please contact us for further assistance by calling the number at the top left of your screen or visiting our "Shout!" page.
We look forward to hearing from you and helping you rep your favorite HBCUs!
---