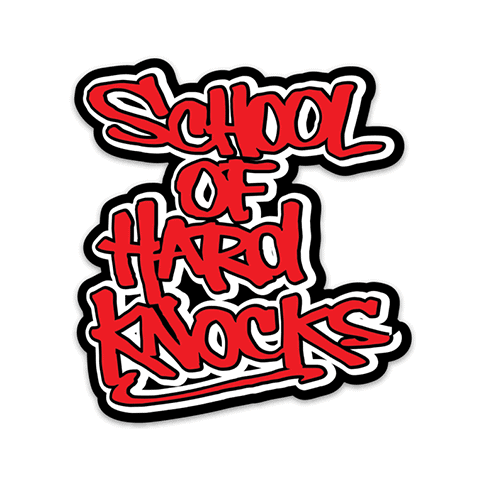 School Of Hard Knocks®
Our family created the School of Hard Knocks brand, but it's taken on a new life of its own. When we designed our School of Hard Knocks apparel line, we wanted to keep the old-school feel of the 1990s and give it a modern twist. New Yorkers everywhere, especially those who grew up in Queens, know that real knowledge of how the world works doesn't start in a classroom; it starts on the streets. Whether you're an NYC native or you connect with the brand's message, we have the right stickers, tops, and bottoms for you.
If you want to rep your favorite city without breaking the bank, you should check out our QUEENS Large 7" X 3.65" Window Decal. Even though it's a "window decal," you can use it on just about anything, like laptops, refrigerators, cars, you name it! It's made from a thick, durable, vinyl material, making it resistant to scratches and other types of damages. It's also waterproof, which means it'll be safe outside in all kinds of weather. These stickers are available in either blue and orange or red and white.
The tops in our School of Hard Knocks apparel collection include hoodies, crew sweatshirts, and T-shirts. We have two different hoodies: the SOHK "PRIMETIME" Hoodie and the Queens All Over Hoodie. The "PRIMETIME" is navy blue with red lettering, decked out in the signature "SOHK" logo and featuring that same logo in the center chest of the hoodie. The Queens All Over Hoodie is similar, but it's black with white lettering, and instead of the "SOHK" logo being front and center, it's the "QUEENS" logo. Both hoodies are made from 100% French cotton terry, and they each have an adjustable drawstring in the hood.
The QUEENS 7 Camo Shorts by LHP are some of the most popular bottoms in our School of Hard Knocks apparel selection. At first glance, this might seem like a normal camo print, but upon closer inspection, you'll find that style is all in the details. There are small LHP logos throughout the camo print, and on the bottom right leg, there's a blue and orange "Queens" logo. These shorts are made from 100% poly mesh, making them perfect for a game of basketball!
Any questions? Give us a call today!
---