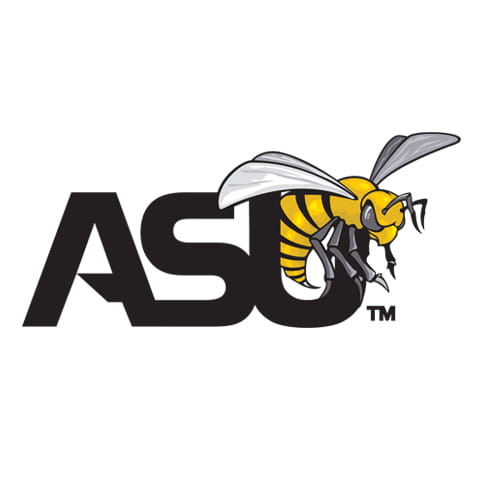 Alabama State
Hornets are small but deadly, and the ASU Hornets are no different. Proudly represent the home of the Hornets when you wear our Alabama State University apparel, knowing that it's a Historically Black College and University with alumni like Rosa Parks, 2 Chainz, Lil Yachty, Tarvaris Jackson, and Ralph Abernathy.
Finding the right ASU gear has never been easier! We offer clothing options for both men and women so that you can show your Hornets pride with high-quality Alabama State University apparel. Whether you are a student, an alumnus, or a parent of a student looking to show your affiliation with a great institution, we have you covered. For a casually athletic look, check out our long sleeve shirts that pair well with your favorite jeans for a football game, as well as your favorite shorts for laid-back study time. We also have an array of hoodies, jackets, sweatshirts, and even button-up sweaters made with quality materials and attention to detail to help you stay warm all season while showing off your school spirit in style. Find your Hornets pride today and show it off all year long!
When you wear clothing from Historically Black Colleges and Universities, it isn't just a statement about which school is your favorite or even which school you graduated from. It's a testament to our culture's victories as well as an expression of respect and hope for future generations. So, find a crew, a mask, a shirt, or even a pair of socks to represent the three pillars of our culture: Legacy, History, and Pride. Give back to the colleges that shaped you, like ASU. LHP is honored to work in partnership with organizations like the Atlanta HBCU Alliance to form the Give Back Initiative, which further bolsters attendance to Historically Black Colleges and Universities through proceeds generated by every sale. When you rep your alma mater with our newest drops, a portion of the proceeds benefits colleges or universities through our licensing agreements. Continue to make a difference for Historically Black Colleges and Universities when you buy Alabama State University Apparel today.
Q: What is the GPA requirement for Alabama State University?
A: Alabama State University uses a sliding scale for its admissions requirements. The lowest GPA you can have is a 2.0. Test scores are a big factor in admissions, but if you have particularly low test scores, you can still be accepted into the school's Tier II or Tier III bridge programs.
Q: Is Alabama State an all black school?
A: No, but around 92% of the school's students identify as black. ASU is a public historically black university that was founded in 1867. Originally, the name of the school was the Lincoln Normal School of Marion.
Q: What is Alabama State University famous for?
A: ASU is known for its sports teams, the Alabama State Hornets and Lady Hornets. It's also home to a few famous alumni, like Ralph David Abernathy, Michael Coe, and 2 Chainz. The school also has six different research centers, including the Center for Nanobiotechnology Research and the National Center for the Study of Civil Rights and African-American Culture.
---