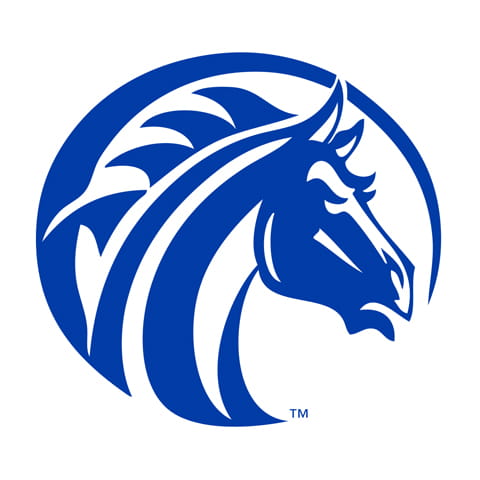 Fayetteville State
Fayetteville State University is a school that pushes you to hold yourself to a higher standard; it knows the possibilities for your future are limitless. Thousands of Fayetteville State graduates have gone on to be very successful musicians, comedians, and athletes, including Affion Crockett, Darrel Armstrong, Blenda Gay, Lamar Russ, and Junkyard Dog. This HBCU was founded over 150 years ago, very soon after the Civil War, by seven Black men who wanted to educate Black children. It's the second oldest state-supported institution in the state of North Carolina and a symbol of achievement our entire culture can all be proud of.
Show your devotion to the Broncos fam with two pairs of shorts and one crew. Our Fayetteville OUTKAST Fleece Shorts feature an applique that reads "FSU BRONCOS" across the front in blue and white lettering. Each leg has a wide blue and white stripe above the leg hole in the vibrant hue only found in officially licensed Fayetteville State apparel. Once you try a pair of these shorts for yourself, we guarantee you'll be back to buy a pair for your favorite student, alumnus, and HBCU supporter. We also have Fayetteville State University "Crispy Cream" Shorts with an officially trademarked Broncos logo on the front left leg.
If you're in the market for a long sleeve shirt, you won't want to miss our Fayetteville State "PrimeTime" Crew, decked out in Bronco blue and featuring a large, white Bronco logo right in the center of the chest. The year that the school was founded, 1867, is printed all over the shirt in white, so you can take pride in the length of your HBCU's legacy. Our crews are perfect for cool Fall days and early Spring mornings when the air is a little crisp, and your school spirit is high.
Fayetteville State University boasts one of America's most diverse college campuses, with students of many different races, ethnicities, backgrounds, and goals. When you attend Fayetteville State, you join a family of people who not only want to see you succeed, but help you succeed. We're proud to bring you a collection of Fayetteville State apparel so that you can rep the HBCU that made you who you are!
---