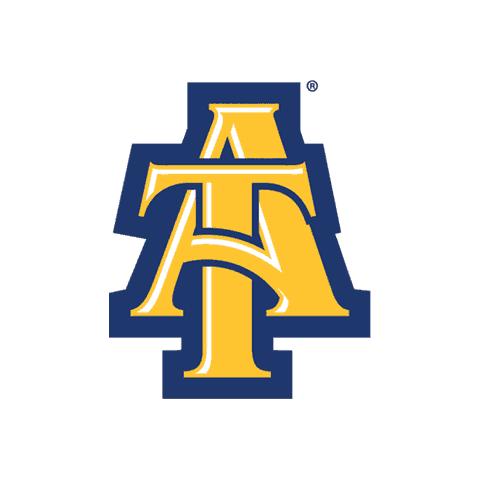 North Carolina A&T
Rep the largest historically black university since 2014: North Carolina A&T! Some of the notable graduates from NC A&T include astronauts and political activists like Ronald McNair and Joseph McNeil. Some of the North Carolina A&T apparel we have available include shorts, crews, hoodies, varsity jackets, and socks so that you can show your Aggie pride no matter where you are!
North Carolina A&T's College of Engineering has consistently ranked first in the nation for the number of degrees awarded at an undergraduate level, and it's also a leading producer of African-American engineers with master's and doctoral degrees. It's a school that's been dedicated to excellence for over 130 years and continues to believe that its students can change the world. Located in Greensboro, NC, North Carolina, A&T has over 12,000 students, with a little over 11,000 of those being underrepresented minorities. LHP is proud to partner with such a distinguished institution to bring you authentic Aggieland merch so that you can show your Aggie spirit in style. Just a few of the North Carolina A&T apparel options we have include shorts with the year the school was founded, 1891, printed on the front, as well as shorts that say "NC A&T." For the cooler months, consider our NC A&T camo hoodie or one of our Primetime Crews in three different colors: cream, navy, or Bulldog gold. If you really want to flex, wear the NC A&T Varsity Jacket to prove your unwavering devotion to your favorite HCBU.
For most of America's history, Historically Black Colleges and Universities like North Carolina A&T have played critical roles in ensuring that African-Americans--and students of all races--receive a quality education. LHP was created to pay homage to our schools and pass down the legacy that was given to us by our ancestors.
Our North Carolina A&T apparel is designed to embrace the innovation of fashion so that you can look good and feel good while you wear it. Our clothes feature the authentic NC A&T blue and gold colors and bulldog logos, and through our licensing agreements, every purchase of NC A&T apparel sends proceeds directly to the school to support their mission.
Frequently Asked Questions
Q
: Is NC A&T an all black school?
A: No, NC A&T is not an ALL Black school, but it is a Historically Black University. Most of its students, around 77.91%, identify as African-American, leaving just under a quarter of its students as identifying as non-Black. The school has a strategic plan in place, called "A&T Preeminence: Taking the Momentum to 2023", in order to increase the diversity of its student population.
Q
: What is North Carolina A&T State University known for?
A: North Carolina A&T State University is known for being the largest HBCU in the United States, and it was also the first school for people of color in the state of North Carolina. NC A&T varsity athletes are referred to as "Aggies," also play in the NCAA Division I, so you've probably seen them on TV.
Q
: What majors are NC A&T known for?
A: The NC A&T College of Engineering has more Black engineer graduates than ANY other campus in the United States! Its College of Agricultural and Environmental Sciences also produces more Black agriculture graduates than any other campus in the country. The university is also a leading producer of Black kinesiology undergraduates, landscape architects, nurses, teachers, and journalists. So, NC A&T is known for a little bit of everything!
---