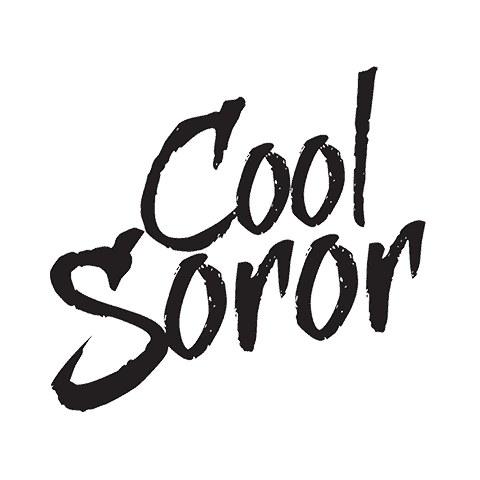 Cool Soror
Rashan Ali is a proud sorority member of Alpha Kappa Alpha Sorority, Inc., and she has committed more than 25 years of service to the organization. The Atlanta native graduated from Florida A&M University and has graced television screens and radios across the country as a multimedia personality. Rashan created the Cool Soror podcast and merchandise brand to celebrate the culture of Black Greek Life, but she's also used her platform to promote events and community initiatives. LegacyHistoryPride™ is happy to celebrate Rashan's accomplishments by partnering with her on our LHP x Cool Soror apparel collection, which offers hoodies, T-shirts, and crews in four different colors.
The vintage cream-colored hoodies are made from 100% French cotton terry and feature the Cool Soror logo in pink/green, red, royal/gold, or blue. They look great on students walking around campus, sorority girls hanging out in their houses, or proud alumni who want to show their Black Greek Lettered sorority pride. Though the hoodies are best for cold weather, they can also be worn year-round.
You can also pick a Cool Soror T-shirt in pink/green, red/white, gold/royal, or blue/white. Each shirt is made of 100% cotton and features the Cool Soror logo front and center. To add an extra dash of flair, there's also a subtle but stylish tonal print all over the shirt that features the LHP flag, Legacy History Pride logo, and the phrase, "All it takes is one.
The Cool Soror crews have the same all-over tonal print, but they feature a solid black background, which allows the green/pink, red/white, gold/royal, or blue/white colors to stand out even more. This is definitely the most stylish sweatshirt on the block, so make sure you grab your favorite design before it's gone!
We're proud to provide Cool Soror apparel in fresh, new styles with a retro twist. Our mission at Legacy History Pride is to honor the past while looking toward the future of Historically Black Colleges and Universities nationwide. The positive effects of HCBUs don't end in the classroom; they reach into the community through their fraternities and sororities in order to change their worlds for the better. Thank you for partnering with us on this journey. If you have any questions, we'll be happy to assist!
---