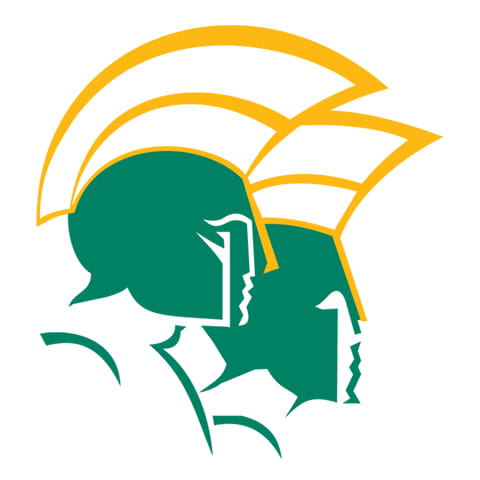 Norfolk State
Norfolk State University has always been a school full of hope. When it was founded in 1935, just after the end of the Great Depression, NSU provided a safe space for young people who still dared to dream. The school's strength is based on its seven core values: excellence, student-centeredness, diversity, integrity, engagement, pride, and financial resourcefulness. We have a wide selection of Norfolk State apparel that'll make any green, gold, and gray Spartan happy!
If you're a true Spartans fan, you can't go another day without owning a Norfolk State University "Motto 2.0" Varsity Jacket. On the right sleeve, you'll see the authentic Spartan mascot as well as the year the school was founded, 1935. On the back, in vibrant green and gold lettering, is the phrase, "Behold the Green and Gold." Wearing this varsity jacket will get you lots of attention on campus; everyone will ask you where you got it so that they can get one of their own.
Remind everyone where your loyalty lies in a gold Norfolk State "PRIMETIME" Crew, featuring the official green NSU Spartans logo on the front. With the year 1935 stamped all over and 100% cotton French terry material, being a proud Spartan has never been so easy (or so comfortable).
When it comes to NSU shorts, you have a few options: first is our signature pair of "Crispy Cream" Shorts, featuring a green waistband and a Spartans logo on the front right leg. Second up is everyone's favorite "OUTKAST" Fleece Shorts, with green and gold stripes around the pant leg and the words "Norfolk State" printed on the front. And last but not least, we have a pair of "OutKast 2.0" Fleece Shorts, which are completely green except for a gold stripe around each pant leg and "Norfolk State" printed in gold on the front. But why pick only one pair when you can buy one of each and switch up your wardrobe throughout the week?
If Historically Black Colleges and Universities have made you who you are, buying and wearing Norfolk State apparel will allow you to offer NSU your financial support and rep them in public. We have anything you could want to wear in every season, so stock up on all of your favorite products before they're gone!
---