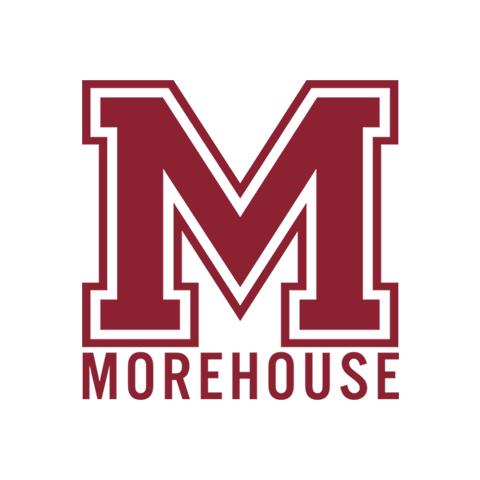 Morehouse College
The men who attend Morehouse College are a part of a brotherhood that's existed for over 150 years. Though the school prides itself on the quality of education it provides, it also largely focuses on the relationships built between its students and faculty, aiming to produce excellent character by means of mentorship. Morehouse College sends more Black men to get doctorates than any other school in the nation, and it gives the most Rhodes Scholarships than any other HBCU. Whether you've graduated from Morehouse or are attending the school now, stocking up on Morehouse apparel is a necessity.
First up is the Morehouse "LHP Camo" Hoodie. Designed from 100% cotton fleece with our exclusively customized LHP camo print, this hoodie features the year Morehouse College was founded, the authentic Maroon Tiger logo, and the phrase "The House" in red tiger-striped lettering. These hoodies come in sizes S-XXXL, and they're perfect to wear to sporting events, mentorship gatherings, and late-night study sessions.
Next is our Morehouse College "Outkast 2.0" Fleece Shorts, featuring the signature maroon and white colors that Morehouse is known for. Most of the fabric is maroon, but each pant leg has a white stripe going all the way around, and "Morehouse" is stitched in white on the front. These shorts are designed from 100% French terry cotton and feature two side zip pockets, a back pocket, and a pull-cord waist for maximum comfort. Wear these shorts to relax around the dorm or to stay comfortable on the basketball court.
Morehouse College is much more than a school; it's a place where great men are trained to do extraordinary things that have never been done before. Just a few of the amazing alumni include Don Clendenon, Spike Lee, Samuel L. Jackson, and Martin Luther King Jr. Show everyone what it means to be a "Morehouse Man" any time of the year when you shop from our selection of Morehouse apparel. If you're interested in financially supporting this fine institution, know that any purchase you make from us benefits Morehouse College through our official licensing agreement, allowing us to bring you the real deal when it comes to school colors and logos. We're proud to show our support for HBCUs everywhere, and we're excited to give you the opportunity to give back to the schools that gave you so much.
Frequently Asked Questions
Q
: Is Morehouse College an all black school?
A: No, Morehouse College is not an ALL Black school, but it is a historically black men's liberal arts college. The students are predominantly Black; around 72% of Morehouse students self-identify as Black. It was founded just two years after the end of the Civil War by William Jefferson White, a cabinet maker and Baptist minister.
Q
: What GPA do you need to get into Morehouse?
A: Morehouse College is a school that expects academic excellence. According to the school's website, those looking to enroll as Freshmen are encouraged to have a GPA between 3.5 and 4.0. GPA requirements are for transfer students can vary with the student and where they are transferring from.
---