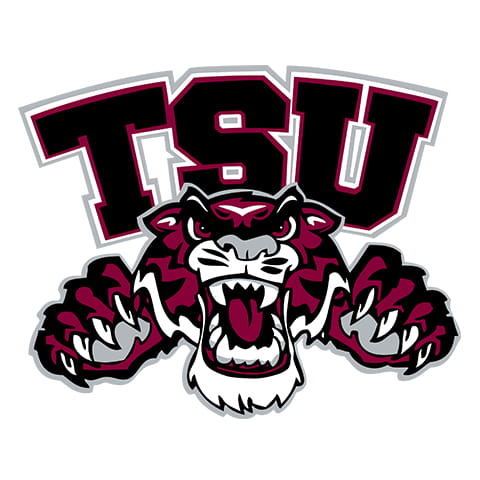 Texas Southern University
Located in the heart of Houston, Texas, Texas Southern University has produced some of the greatest NFL players, Olympians, musicians, and politicians that this country has ever seen. You'll find Michael Strahan, Jim Hines, DJ Candlestick, and Kenneth M. Hoyt among our alumni. It's an HBCU that we can all be proud of. Whether you just received your acceptance letter to Texas Southern University or graduated years ago, we have the Texas Southern University apparel you need to showcase your Tiger pride.
We offer many ways for you to display your Tiger spirit in style with our collection of high-quality, officially licensed Texas Southern University apparel. Our licensing agreements with the school allow us to provide you with clothes featuring the authentic maroon and gray Tiger logos that only TSU is known for.
We have everything you need to rock your school pride year-round. When the cooler months roll in, and it's time to start tailgating and taking trips home for the holidays, you'll love our Texas Southern University "PrimeTime" Crew, made from 100% cotton French terry material. It's one of the most comfortable sweatshirts you will ever own! We have our Texas Southern University "Crispy Cream" shorts for warmer days, which pair well with t-shirts, tank tops, or even the sweatshirt we mentioned above. Regardless of which option is more your style, rest assured that every item we sell is well-made, featuring quality materials that are easy to care for and comfortable to wear. Our long-lasting sweatshirts and shorts will last as long as your dedication to Texas Southern University.
Here at Legacy History Pride, we are dedicated to customer service from start to finish with every transaction. We want you to be as proud to wear our gear as we are of our Historically Black Colleges and Universities. If you have any questions or concerns while shopping with us, please contact us for assistance on the matter by calling the phone number on the top left of your screen. You can also message us directly through our website by visiting our "Shout!" page, and we'll respond to you as quickly as possible.
---