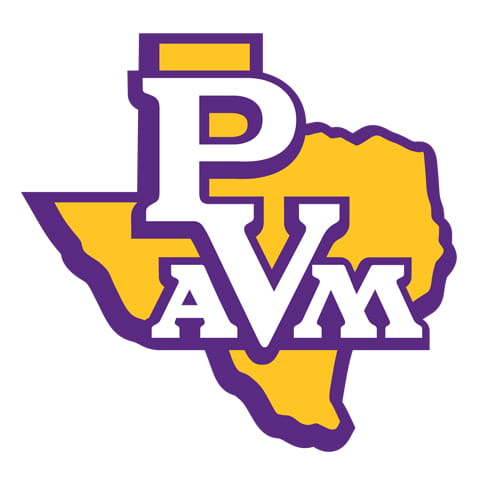 Prairie View A&M
Welcome to Pantherland. Prairie View A&M University was founded in Texas in 1876, making it the second-oldest public institution of higher learning in the state. Nicknamed "The Hill" because of the campus location, the Prairie View A&M Panthers are a proud group of students who live their lives around the motto, "Prairie View Produces Productive People." The school has dedicated itself to actively making the world a better place for nearly 150 years, which is why we're proud to offer you authentic and official Prairie View A&M apparel.
Show your allegiance to your favorite Black Panthers by wearing a Prairie View A&M "Primetime" Crew. Featuring a large royal purple, white, and gold logo right on the front, you'll be the most stylish fan in the bleachers when you wear this shirt. It makes a great gift for any loved one who is either getting ready to graduate from Prairie View A&M or who is already a proud alumnus/alumna.
Do you know what pairs really well with that crew we mentioned? A pair of Prairie View A&M University "Crispy Cream" shorts. These shorts have a gold waistband and the same logo that's on the crew, placed instead on the right leg. They're great for those long days of back-to-back classes or long commutes since they'll keep you comfy but also help you look fresh even when you're completely exhausted.
You'll be the coolest cat on campus with our Prairie View A&M University "Motto 2.0" Varsity Jacket, decked out in such vibrant shades of royal purple and gold that everyone will think you bought it from the campus bookstore. On the right sleeve is the official school logo and the school mascot, the Black Panther. The back of the jacket features the school's nickname in proud, gold letters: "The Hill." The sleeves are made of leather, and the rest of the jacket is wool to keep you warm all year long.
It's hard to beat our Prairie View A&M apparel line, especially since we have official licensing agreements that allow us to use the real school colors, logos, and mascots in our clothing. What are you waiting for? Order your favorite products today before they're gone!
---