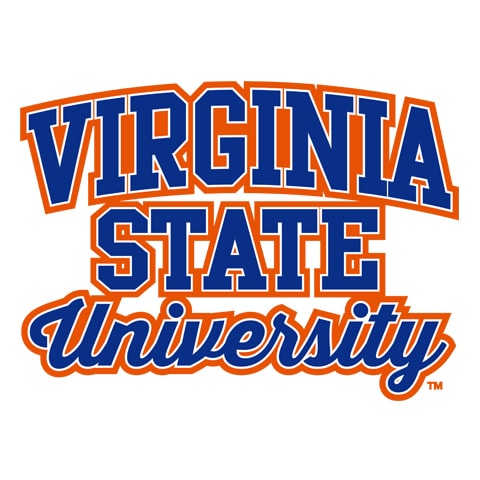 Virginia State University
Founded in 1882, Virginia State University was the USA's first fully state-supported, four-year institution of higher learning for African-Americans. Talk about a history and a legacy we can all be proud of! Some of its most notable alumni include politicians, musicians, professional athletes, and actors we'd recognize anywhere, like James Avery. When you're looking to add those signature blue and orange colors to your wardrobe, you won't find a better selection than our line of Virginia State apparel. Our licensing agreements with HBCUs like Virginia State allow us to provide you with only the real, authentic school colors and logos--no knock-offs or imitations!
As you browse our collection of Virginia State apparel, you'll see that you have two different style options for crews, shorts, and varsity jackets. Let's start by taking a look at the crews: the first difference you'll probably notice between the two styles is the difference in the color scheme. The Virginia State University "Primetime" Crew has a navy blue background and a large but simple orange, blue, and white "VSU" logo on the front that also says the name, "Virginia State." Our other "PrimeTime" Crew has a cream-colored background and a Trojan mascot with the signature orange helmet. Around the mascot, written in a semicircle pattern, are the words, "Virginia State University." Both sweatshirts are stylish and extremely comfortable. Which one is "better?" If you own both, you'll never have to worry.
The difference between the two styles of varsity jackets is very similar to the main difference between our crew sweatshirts: one jacket is predominantly orange with navy blue detailing, while the other is predominantly navy blue with orange detailing. Everything else about our "Motto 2.0" Varsity Jackets are exactly the same, from the motto on the back to the school logo and mascot on the right sleeve.
Our two styles of VSU shorts are very different from one another. The Virginia State "OutKast 2.0" Fleece Shorts focus on the bold, vibrant colors that VSU is known for, while the "Crispy Cream" shorts take a subtler approach to school spirit. This design features only an orange waistband and a relatively small Trojan logo on the front right of the leg.
If you'd like to know more about any of the items from our collection of Virginia State apparel, don't hesitate to reach out.
---