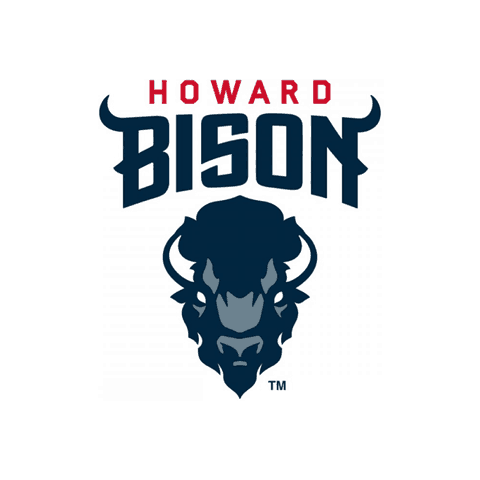 Howard University
The Bison. A symbol of strength, power, and tenacity. A more than perfect representation of the truth and excellence of one of America's most diverse, talented, and ambitious Universities in the country today. With over 11,000 undergraduates, graduate, and professional students, Howard students represent 53 states and territories as well as over 53 nations, and we're humbled and immensely proud to be able to offer our exclusive collection.
Our Howard University apparel is officially licensed and custom-designed in-house to ensure every design is as unique as those who will love to wear it. To celebrate the hard work, dedication, and historical university, we offer a wide range of in-style and on-trend choices to add to your wardrobe. Please choose from the always classic American crewneck, ultra-comfy hoodie, shorts, sweatshirt, and varsity jacket, to name a few pieces from our Howard University apparel. When you want to rep your inner Bison or show off your pride of having a Bison in your family, we've got everything you need.
Custom created with meticulous respect from concept, innovative tailoring, and high-tech details that are durable, vibrant, and long-lasting, we always provide the highest standards of quality and comfort. We choose only the most premium stock for fabrics, ranging from exceptional blends of cotton and polyester that ensure silky-smooth coziness when worn. No matter your favorite garment to wear, each design of our Howard University apparel is made to mix and match and elevate your wardrobe with the legacy, history, and pride of this historically rich HBCU.
Plus, not only will you look and feel amazing with these unique colorways and luxury tailored Howard University apparel, but for each garment you purchase, a percentage of the proceeds is given back to Howard itself, supporting future generations of headstrong, ground-breaking Bison. Questions about our apparel or our Howard University collection? Reach out to us anytime. Give us a shout via the website contact form link, or call us, Monday to Friday, 8 AM until 5 PM at 1-883-LHP-1999.
Let LHP share the joy of our shared heritage, the awakening sense of strength, and pride with carefully designed apparel made with a cultural foundation built together.
Frequently Asked Questions
Q:
Is Howard University an All Black school?
A: No, Howard University is not an All Black school. Most of its students are, though! Currently, around 83% of the students identify as "Black Non-Hispanic." Howard University makes it clear on their website that, even though they are culturally diverse with open doors to students of all races, they also emphasize making sure Black students have opportunities to get a quality education.
Q:
Is Howard University an Ivy League school?
A: Howard University is not a traditional Ivy League school. The eight Ivy League schools are Harvard, Yale, Princeton, Columbia, Brown, Dartmouth, Cornell, and the University of Pennsylvania. However, Howard University is a part of the Black Ivy League, along with Dillard, Fisk, Hampton, Morehouse, Spelman, and Tuskegee.
Q:
What is the GPA requirement for Howard University?
A: While the minimum GPA requirement for admission to Howard University is not listed on the school's website, the Admission Profile for the class of 2025 shows that the GPA of the average newly admitted student is 3.66, while some college prep websites say the requirement is 3.55. The important thing to remember is that Howard is a very competitive and selective school, so if you're looking to get accepted, you need to aim for the very best grades possible.
---