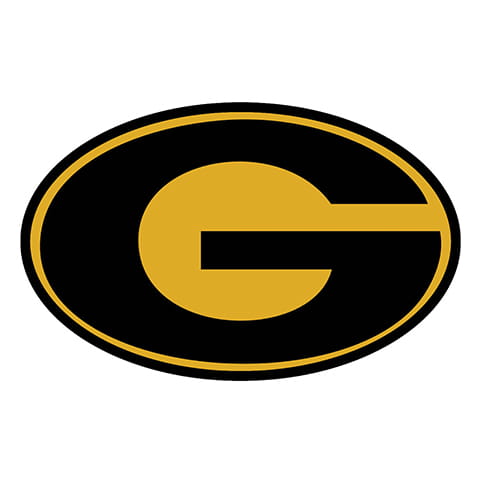 Grambling State
Grambling State University's motto claims that it's a school "Where everybody is somebody." What started as a dream of African-American farmers in rural Louisiana has grown into a legacy that we can all be proud of. With alumni like Charles M. Blow, Doug Williams, Everson Walls, Earnie Ladd, and Ronnie Coleman, the Grambling State Tigers are not a team to be trifled with. Now you can rep your Tigers anywhere with our Grambling State University apparel!
If you want to add the signature black and gold Grambling colors to your wardrobe, we have everything you need. Take your GramFam pride to the next level with fleece shorts that actually say "GramFam" on the rear, or, if that's not really your style, we also have shorts with the authentic GSU Tiger logo on the front right leg. If you're a die-hard Grambling State fan, you won't be able to resist our Primetime Crew with the tiger logo front and center and the year it was founded, 1901, stamped in multiple places. No matter what you choose, every piece of clothing we sell is made with high-quality materials and strict manufacturing standards, ensuring that anything you buy from us is long-lasting and easy to care for. Since our selection of Grambling State University apparel is stocked with officially licensed products, your clothing will always have the school's vivid and vibrant colors as well as its authentic logos. Basically, our shirts, shorts, masks, and socks are so authentic that people will think you probably bought them on Grambling State's campus. Add any of these high-quality styles to your collection today to show your GramFam school spirit.
LHP is dedicated to helping build history with every garment we make. Every sale of Grambling State University apparel sends a portion of the proceeds directly to GSU in order to benefit the school's mission, but we also partner with GSU staff and alumni to develop scholarship opportunities. We are committed to customer service from start to finish with every transaction. If you have any questions while shopping with us, please contact us for further assistance on the matter. We are always happy to help in any way!
Q: Is Grambling State a black college?
A: Yes, Grambling State is a historically Black university in the state of Louisiana. The school was originally founded because African-American farmers had a dream to educate other African-Americans in the northern part of the state. The school's original name was the Colored Industrial and Agricultural School.
Q: Is Grambling State a good school?
A: Grambling State is a great school, especially if you're interested in playing sports, earning a law degree, or working in the field of cybersecurity. The Grambling State Tigers play in NCAA Division I, which is the highest level of intercollegiate athletes. It ranks as number five on the list of best HBCU Schools Offering Law Programs, according to the HBCU Colleges website. It was the first college in the state of Louisiana to offer a bachelor's degree in cybersecurity.
Q: What is Grambling State University known for?
A: Grambling State is best known for its amazing athletes, who compete at the highest level of intercollegiate sports. Some of the sports teams include baseball, basketball, cross country, football, track and field, bowling, soccer, softball, tennis, and volleyball. Athletes who have played for the Grambling State Tigers have gone on to become successful in the Major League or Baseball and join the Pro Football Hall of Fame.
---